DEL MAR, Calif.— Certain races bring out certain emotions in people. All races are fun to win. But there are only a few races, out of the thousands that are run every year, that can make a career for a rider, a trainer, or an owner. It's these races that leave permanent imprints on the minds of those who were lucky enough to win one.
Case in point, is the TVG Pacific Classic, which will be run for the 32nd time Saturday at Del Mar.
"It's different definitely," says Hall of Fame jockey Victor Espinoza, who ought to know. He's won a couple of Kentucky Derbies and a Triple Crown. "For me it's the race I always look forward to winning at Del Mar. I always figure if I win the Pacific Classic, I did great."
Espinoza won on California Chrome in 2016.
"That was a fun race," Espinoza recalls. "I used different techniques to put away the rest of the horses out of the gate. That was the key for me. I was going to take a shot. I'm going to do something crazy. If it works, then I'm good. If not, it will probably be a bad idea."
Espinoza stepped on the gas coming out of the gate, shaking the reins at California Chrome as they sprinted out to the lead. They hit the turn with the mare Beholder just off their flank. 'Chrome' would sprint out to a two-length lead by the time they reached the backstretch, expending a :23.20 first quarter and a :47.29 half to get there, and he was being chased by some very good horses. Beholder was in second, Dortmund third, and Hoppertunity in fourth. Chrome and Espinoza were up by three by the time they reached the far turn and they never stopped, coming home by five under a hand ride by Espinoza.
"California Chrome ran an amazing race," Espinoza says. "I never watch races but I've watched that Pacific Classic a couple of times because of the way I rode him, the way I gave him a chance to run his best race."
"I think you get fond of a race if you win it a lot," trainer John Sadler says of the TVG Pacific Classic. "We've won three so it's very memorable for me. I think the most memorable was the first one we won with Accelerate (2018), who went on to win the Breeders' Cup Classic."
Accelerate was a monster that year and won the TVG Pacific Classic by 12 ½ lengths, the record for the largest winning margin in the race. He would go on to win an Eclipse Award for older dirt male that year, losing out to Triple Crown winner Justify for Horse of the Year honors.
"It's always been a great race in Del Mar's history," Sadler says. "I've watched so many of them and enjoyed so many of them I feel fortunate to be a part of it again this year."
Sadler will saddle the favorite, Flightline, in this year's race.
Richard Mandella knows a thing or two about winning the Pacific Classic. He's done it four times, with seven seconds out of 19 starts.
"Puts money in the bank," Mandella says with a smile. "It's a pretty exciting deal. Doesn't get much better."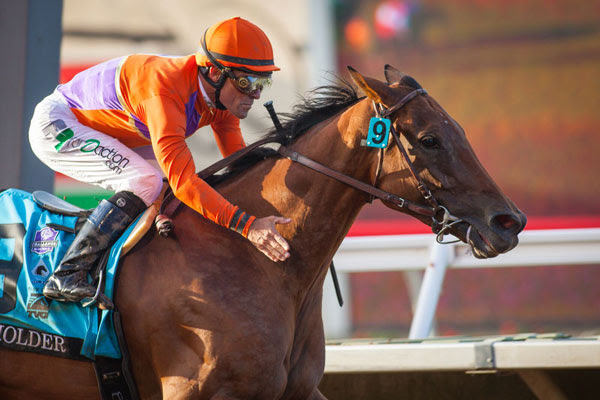 Mandella has fond memories of his win with his grand mare Beholder in 2015.
"One of the best I have," Mandella says. "Of her years, that was her peak. She was her best that year. When she won the Clement Hirsch, I had it in my mind but I wanted to see her do it and she won that (distaff race) so easily. I said it right there in the winner's circle, 'We're going to try the colts.' Often you say those things but it doesn't work out. This time it did."
Beholder sat behind dueling pacesetters and then, without rider Gary Stevens moving a muscle, she burst by the leaders, opened up by the top of the stretch and drew off in lane. "Poetry in motion" is what track announcer Trevor Denman called it. She remains the only female to win the Classic.
Mandella may have the race's most memorable victory. It was 1996. The Hall of Fame trainer brought Dare And Go to the Classic to face Cigar, who had shipped in riding a 16-race win streak and went off at 1-10 to set the North American record for consecutive victories. But Dare And Go won that day, shocking the racing world. He is still the longest shot to ever win a Classic at 39-1.
"Can't win if you ain't in," Mandella says.
"It's very exciting, it's our marquee race," trainer Bob Baffert says of the Classic. "I would have loved to have run American Pharoah and Justify. It's a big race. A lot of people come out. I remember winning it with General Challenge."
That was in 1999 when Golden Eagle Farm's General Challenge was a 3-year-old taking on older horses. He went off as the favorite and won like one, prompting a "moving like a winner" from Denman as the colt finished his three-length victory. 
Baffert is tied with his Hall of Fame partner Bobby Frankel for the most Pacific Classic victories by a trainer with six. Baffert also won with Game On Dude in 2013, Collected in 2017, and Maximum Security in 2020, one year after that colt won the Kentucky Derby only to be disqualified for interference. 'Max' came to Del Mar riding a five-race winning streak that included the inaugural Saudi Cup. He won the Pacific Classic by three lengths as the odds-on favorite.
"It's especially exciting when you don't think you have a chance," Baffert says. "You enjoy them because there's less pressure. Some of them you feel the pressure. I didn't think we had a chance with Richard's Kid."
Richard's Kid would win the Classic twice, going back-to-back in 2009 and 2010. Jockey Mike Smith was on board for both of the victories.
"Those were the only two times I rode him," Smith remembers. "The only two times I rode the horse was in the Pacific Classic and we won both times. The first year that I won it for Bob he said 'Listen, this horse is not without a chance of running well but he needs a Hall of Fame ride. You give me one of those and we'll see what happens,' and then we were blessed to pull it off."
Smith has won the Classic four times, tied with the late Garrett Gomez for the most by a jockey.
"If you're going to win one, that's the one you want to win," Smith says, "and not because of the purse but because of the prestige. It's just an honor to win something like it. Even to just get the opportunity to ride in it, it means a lot. Everybody's watching that race. If you're in it, people are seeing you're doing well enough to ride in the Pacific Classic so it's a big thing."
Smith won his first Classic on Came Home in 2002.
"I still get goosebumps and that was 20 some years ago," Smith says.
His last trip to the Pacific Classic winner's circle came in 2014 with Shared Belief.
"First of all, he holds a special place in my heart," Smith says of the son of Candy Ride, who died unexpectedly in 2015 from complications due to colic. "Then to win a race like that on him, that's incredible."
Frankel dominated the early years of the Pacific Classic, winning four of the first five runnings, those four victories coming consecutively, starting with Missionary Ridge in 1992 and followed by Bertrando in 1993. Gary Stevens was on board for that race.
"He was pretty straightforward," Stevens remembers. "He was a speed horse. He was very ratable if he was left alone on the lead, but if there was somebody in there with equal speed he would not let any horse pass him."
Stevens says there were no special pre-race instructions from Frankel.
"We knew what we were doing," Stevens chuckles. "We were going to the lead, no secret."
Bertrando went wire to wire and won by three lengths, beating two defending Pacific Classic winners in Missionary Ridge, who won it the year before and Best Pal, who won the inaugural running two years earlier.
Stevens says the Classic has taken its place among the marquee races of the year.
"It's a big deal," the Hall of Famer says. "It became the third jewel of what I called the classic races for older horses: The Santa Anita Handicap, Hollywood Gold Cup and the Pacific Classic."
Stevens also was aboard the mare, Beholder, when she won the Classic in 2015. He says he knew he had the race won long before they made their devastating move on the turn to take the lead…
"About five-sixteenths of a mile into the race," he says, "it was over with. I hadn't, and never did again, experience the feeling I got that day. Everybody says 'Man, you were brave moving her when you moved her so early,' and I say, that wasn't me, I didn't ask her until the eighth pole. The big move around the turn was all her.
"She was doing it with big powerful strides and was well within herself," Stevens continued. "That was the unbelievable part. I hadn't asked her for her best yet and when she turned into the stretch and she swapped into her right lead I smooched to her a little bit and she took off again. It was pretty cool.
"That was the best performance of any race, dirt or turf, distance or sprint of any horse that I had ever rode," Stevens says. "People ask me what's the best horse you've ever rode and I won't tell them because I really don't know, but on that particular afternoon, no horse I had ever rode could have beat her."
Stevens also rode Gentlemen to a Pacific Classic victory in 1997.
Hall of Famer Julie Krone was the first female jockey to win the Pacific Classic and she did it for Hall of Fame trainer, Ron McAnally, who was just awarded the Pincay Award at Del Mar. Candy Ride was a popular winner in 2003 for owners Sid and Jenny Craig. Krone remembers it like it was yesterday.
"Thousands of people at the races," Krone noted, "being the first girl jockey to win the Pacific Classic, the excitement was so thick you could cut it with a knife. The horse performed like a storybook; he was gorgeous."
Krone had won many of the prestigious races on the east coast, including the Belmont Stakes. But coming out west and winning the Pacific Classic still rates high on her list of accomplishments.
"It was just an amazing special day," Krone offered. "Not only marked in time by the uniqueness of gender but for any jockey who wins a Pacific Classic it's really fun and exciting. Then add to it people who invested so much into the game like Sid and Jenny Craig and Ron (McAnally). They've been in the game their whole entire lives and at the very end, at the cusp, they can't waste any more time, they finally get their Pacific Classic and I got to be a part of that. It was magical."
By Jim Charvat – DMTC Press Release
Main photo: Victor Espinoza wins 2016 TVG Pacific Classic on California Chrome (Benoit Photo)